Wednesday, June 10, 2009
Sagara Sanosuke is a fictional character from the Rurouni Kenshin anime and manga series created by Nobuhiro Watsuki. He is known as Sanosuke Sagara in the English adaptation of the anime and is nicknamed Sano. Watsuki, being a fan of the Shinsengumi, created Sanosuke by basing his name and characteristics on that of a real Shinsengumi member named Harada Sanosuke.

Sagara Sanosuke
Set during a fictional version of Japan in the pre-Meiji period, Sanosuke is a former member of the Sekihotai. When the group is destroyed by the Meiji Government, he becomes a fighter-for-hire to calm his anger by fighting. During his introduction in the series, he encounters the wanderer Himura Kenshin, who easily defeats him and is able to convince him to stop his mercenary work and instead start protecting people. After that encounter, Sanosuke becomes Kenshin's best friend as well as his partner in most of their fights. He has also appears in the featured film of the series and in other media relating to the Rurouni Kenshin franchise, including a plethora of electronic games and original video animations (OVAs).
Sagara Sanosuke
Sagara Sanosuke

Numerous anime and manga publications have commented on Sanosuke's character. Mania Entertainment praised his character development, noting that he becomes more trustworthy and reliable as the series progresses. SciFi.com referred to him as a "video-game icon", and noted how he is portrayed as a "tragic figure". Sanosuke has been popular with the Rurouni Kenshin reader base, placing second in every popularity poll. Merchandise based on Sanosuke has also been released, including key chains, and plush dolls.
Sagara Sanosuke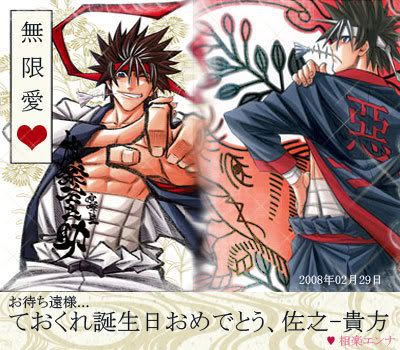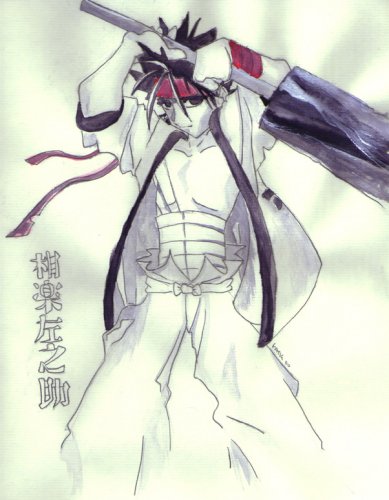 Sagara Sanosuke