The Greek goddess Athena (spelled in Greek as ????? and ?s??a, in the manga and the anime adaptation respectively, and occasionally as ????a in both) is one of the main characters in the Manga Saint Seiya, authored by Masami Kurumada, and later adapted to Anime. A character with a substantial importance in the universe of Saint Seiya, she was created by Kurumada based on the mythologic persona of the same name.
Saint Seiya Athena
As in Greek mythology, she is the goddess of wisdom and heroic endeavor, and daughter of Zeus. In Kurumada's mythos, she is sent to Earth by the Olympian gods every 250 years, when evil takes over Earth. Her mission during every one of her incarnations is to restore peace and bring hope, destroy the agent of evil and protect Earth; to do so, she has been assisted since the ages of myth by an army of 88 youths of great strength and courage, whose fists rend the skies and whose kicks split the earth, don radiant holy armor called Cloths, and are known as the Saints of Athena.
Saint Seiya Athena
Athena is said to be by birthright the goddess of battle, but she didn't believe in conquest and only fought defensive wars. She hates weapons, and thus only allows her Saints to battle using their bodies and armors. The only Saint allowed by her to wield weapons is the Libra Gold Saint, and it is only with her permission that the Saints are allowed to brandish the weapons kept by the Libra Saint.
She has opposed the ambitions of antagonist deities since the ages of myth in Greece, earning herself the rejection of the other Olympian gods. She has had specially a long-standing conflict with the god of the Underworld, Hades.
Saint Seiya Athena
During her 20th century incarnation she uses the name Saori Kido as her civilian identity. In the English-language version of the manga and the edited anime she is known as Princess Sienna.
Athena was introduced by Masami Kurumada in chapter 1 of his manga Saint Seiya, contained in vol. 1, as the mythical Greek goddess, and in chapter 3 of vol.1 as Saori Kido; and she first appeared in the anime adaptation in episode 1. She is an extremely beautiful, short young woman with a perfectly proportionated body, who radiates elegance, wisdom and serenity, and is followed and protected very dedicatedly by her Saints, who would never hesitate to do anything for her sake, even sacrificing their lives gladly. In his manga, Kurumada gave her light brown hair; in the anime adaptation, her hair color is purple.
Saint Seiya Athena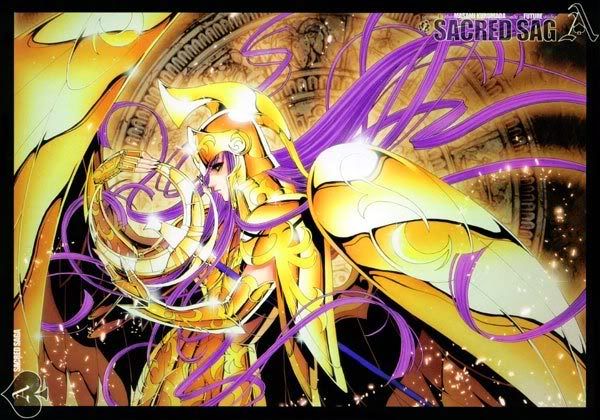 Saint Seiya Athena